Filling Up, Pouring Out
Alabaster is a ministry working primarily with young mums from Manenberg. Our heart is to see them supported and empowered to mother well, to walk free from the many challenges they have faced and to know that they are seen, accepted and belong
It is good to be together. So many women in Manenberg have had to struggle alone, with burdens that no one should have to carry. Our desire is that they would first find a safe place at Alabaster where they get to be themselves, where they are looked after and where they begin to find their voices.
We run a weekly support group for young women, where they receive input in understanding their context, their children, and how to rise up out of their circumstances. The support group is a place where they can share openly about life, without fear of judgement. This goes hand in hand with our Bible study where they are discipled and encountering the love and hope of Jesus.
Part of the practical support is helping get IDs, birth certificate, child support grants and access to resources and, when the time is right, support in finding a job. The rest of our time is spent with one on one sessions, regular house visits; knowing that we will keep showing up, even when things get hard.
We hope to see these young women find their feet, rise up and reconcile with their families and loved ones.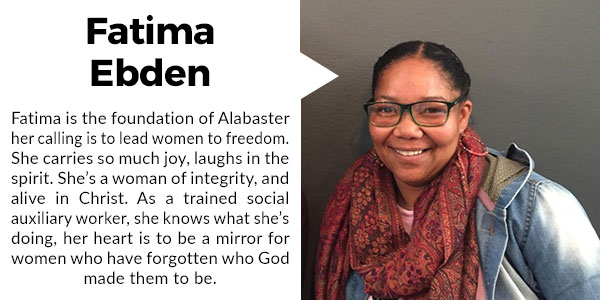 What do we need?
Alabaster has been running since June 2018 and is slowing understanding what our ministry needs to offer for this community. Pray for us as we discern how best to love the women God puts on our path, and for the resources we need to help see these women uplifted.